...we get on with life-as-usual fairly quickly.
The Easter lights have all burned low.
The bunny that was solid chocolate...

...is long gone.
Please forgive the choclatey macabre;

those of you with sensitive minds.
I just wanted to show the luxurious
solid
cholatey-ness.
~

*

~

On a lighter note;
I worked a little bit on this project:
...well, okay, I just thought about working on it.
I ended up just eating more chocolate, tee hee!
~

*

~
I also got an award I'd like to share with you.
Earlier, I got this from
Summer Sadie
.
Thank you, Summer Sadie!


Then, back in March Lynn B
gave me this fabulous award:
(secretly, I have been coveting this award
because it's, well, FABulous! Thanks, Lynn!)

I think I'll share these awards with:
(Have you SEEN how many comments this girl gets on EACH post?)
Carolyn from
Draffin Bears
Actually, ALL of you leave fabulous comments
and have fabulous blogs so it's hard to just pick a few.
Right when I was clicking on "publish"
for this post
Elyse
left the sweetest comment on
She offered me her "Treasured Blogger" award!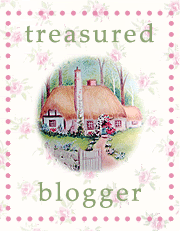 Thank you, Elyse! What an honor!
I will put this in a place of honor on my sidebar!
~*~
Thank you for stopping by. I haven't been feeling well today. I had to stay home from work due to another migraine (maybe it was all that chocolate, LOL!) and other health issues that I deal with on occasion. I am grateful for my bloggy friends to keep me company on days like this. Honestly, I don't know what I'd do without all of you! Feel free to leave a comment and let me know how you are doing, how your Easter was or just say hello! I always love a "hello". Your comments mean a lot to me! :)
Thanks,
TattingChic
xoxo